geografia is a product series that employs geography, topography and the earth as themes.
A number of different items that draw on special processing techniquesand printing technology methods employed by printing companies are presented.
We aim to attribute a shape in the form of products that can experience information, besides the printing technology disseminates information.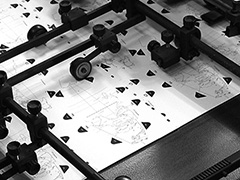 marumo printing
A long-established printing company located in Mitoyo-City, Kagawa prefecture, Japan.
After Akio Okuda became CEO, the company started to develop unique printing techniques such as UV-screen printing and 3D printing; also the quality of paper products was improved. They have expanded their horizons as a printing company by shifting business way from working solely on commercial printing to planning and producing their own brands.
They have been expanding the sales of geografia products all over the world.
2011- Exhibitions in Maison and Object and New York International Gift Fair
2009- Exhibition in Interior Lifestyle
2007 Geografia product series has started
1919 founded in Kanonji, Kagawa Prefecture


DRILL DESIGN
Design Studio by Yusuke Hayashi and Yoko Yasunishi.
After their college education, both studied design and founded DRILL DESIGN in the year 2000. They offer complete project solutions in various fields such as Product Design, Graphic Design and Interior Design .The products (mainly everyday objects such as furniture, stationery, gardening tools and kitchen utensils) are soldin several countries, including the MoMA Store in New York. They have won numerous awards, such as the prestigious Red Dot design award (in Germany) and the Good Design Special Award.
They are in charge of direction and design in Geografia projects.
2012 Red dot design award / paper-wood
 STOOL
2010 Good Design Award / paper-wood

2010 MILANO SALONE satellite(ITALY)

2008 Good Design Award special prize/ Trashpot
2010-12 MAISON&OBJET (FRANCE)

2009 DESIGNERS BLOCK MILANO(ITALY)
2004-06 Japan display design association display design award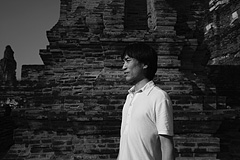 AuthaGraph
Hajime Narukawa and his co-workers have been dedicating themselves in development on ideas highly based on geometrical studies. Then they apply the pure geometrical ideas to practical usages in projection engineering for photography and world map, architecture, product design and fine art. For the last 3 years they had involved in designing Geo-cosmos, a large full-spherical display, Geo-scope, an interactive touch panel display and Geo-palette, a world map archive.
2011 constructions of all three contents are done and showcased to public at National Museum of Emerging Science and Innovation in Tokyo. In geografia AuthaGraph are in charge of designing. One of their designs TWISTABLE GLOBE [EARTH & SKY]"eight cuves" won LES DESCOUVERTE prize at MAISON & OBJET 2012.
Jun. 2011 "Tsunagari Project Exhibition Space"

Basic design and supervisor for a permanent exhibition, National Museum of Emerging Science


Jun. 2011 "Geo-Scope"


Basic design and supervisor for touch panel displays, National Museum of Emerging Science


Jun. 2011 "Geo-Cosmos"


Basic design and supervisor for a large full spherical display, National Museum of Emerging Science


Jan. 2011 "Geo-Pallette"


An original map projection supply and supervisor for a world map archive, National Museum of Emerging Science
Sep. 

2009 "Corpora in Si(gh)t"


Structural engineering for an art installation, Honorary mention, ARS ELECTRONICA as a support member of dNA
May. 

2009 "ISS Long Term Tracking"


An installation for art exhibition, "Mission G" , NTT ICC 
www.authagraph.com
AuthaGraph world map
Same as Mercator map, the AuthaGraph world map shapes a rectangle while it substantially keeps sizes and shapes as Dymaxion map does.

(Dymaxion map is a world map invented in 1946 in U.S.)
Details